The New Alfa Romeo Stelvio Hits Atlanta
Turn up your style throughout the Atlanta, Johns Creek, Sandy Springs, and Alpharetta area in the all-new Alfa Romeo Stelvio! The luxury auto brand rolled out a new SUV for drivers with a taste for style, performance and versatility. 
Now, your needs and desires for an automobile converge in the Alfa Romeo Stelvio. You need a practical, versatile vehicle that can handle life's occasional chores and adventures. But you want something fast, fun, and engaging that'll make you smile with every commute. The great thing about the Alfa Romeo Stelvio is that you can want it and need it at the same time. Even we are hard-pressed to justify needing a 4C coupe, for instance- though we're certainly not above it. But the Stelvio needs no justification.
 If this sporty SUV has caught your eye, learn more about the new Stelvio model and compare features below to discover your ideal match - at
Jim Ellis Alfa Romeo Atlanta
!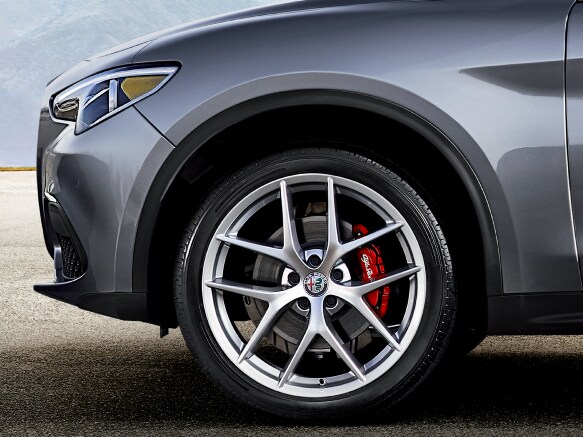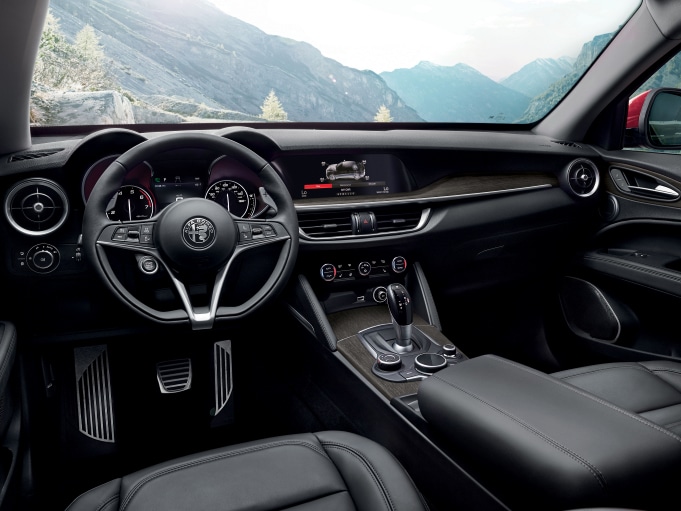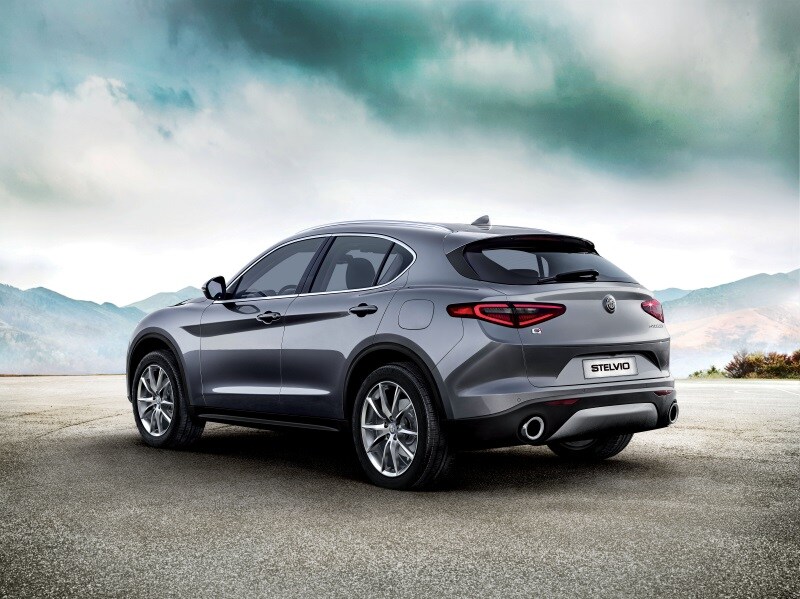 All-New Stelvio Exterior and Interior Design
The luxurious Italian SUV exudes flair from any angle. The Stelvio is a natural fit in the prestigious Alfa Romeo lineup as it embodies its racing-royalty lineage without a second thought, looking just as confident in Rosso Alfa as any of its smaller-statured stablemates.The exterior of the Alfa Romeo Stelvio features sweeping lines and sporty curves that accentuate the model's aerodynamic silhouette. A signature "Trilobo" front grille provides an exceptional face for the premium SUV. Climb inside the spacious cabin to experience ample space for your lucky passengers and recreational items. Each new Stelvio features 40/20/40 split fold down rear seats standard for excellent cargo transportation. Compartment storage hooks and an optional outside rail system keep your gear organized as you navigate through Atlanta. The all-new Alfa Romeo SUV also features premium accents inside the cabin, ranging from the leather-wrapped steering wheel and supple leather seating surfaces to intuitive driver controls.
Alfa Romeo SUV's Performance
Not only is the Stelvio sleek and seductive, but it is also speedy. It gives you the feeling of smooth, precise control and responsive feedback that you expect from the legendary Italian brand. After a moment in the driver's seat, you come to realize that everything you previously thought about SUVs doesn't have to be true.
The high-performance SUV boasts an all-aluminum engine and 8-speed automatic transmission with adaptive shift technology to enhance your Atlanta commute. The 2.0-liter Direct-Injection I4 intercooled turbo engine generates up to 280 horsepower and 306 pound-feet of torque, proving that you can experience ambitious performance in a luxury SUV. Take manual shifting into your hands even with the automatic transmission with available Steering Column-Mounted Aluminum Paddle Shifters. The Stelvio model's next-generation Q4 All-Wheel Drive (AWD) system provides exceptional traction and control optimized for virtually any terrain in real-time.
Alfa Romeo Stelvio Features Innovative Technology Systems
The new Alfa Romeo Stelvio comes equipped with top-rate technology to improve your daily driving experience. The all-new SUV features premium acoustics with a high fidelity, 8-speaker audio system as standard equipment. An optional Harman Kardon® Premium Audio System featuring a 900-Watt, 12-Channel Class-D Amplifier, 14 speakers, and Logic 7® HiFi System is also available to enhance your audio infotainment experience as you navigate the busy streets of the Greater Atlanta area. A 7-inch TFT cluster featuring a Dynamic Display Controller assists you with your driving needs with an excellent color display and driver-focused controls that help with your safety, phone calls, and trip and vehicle information.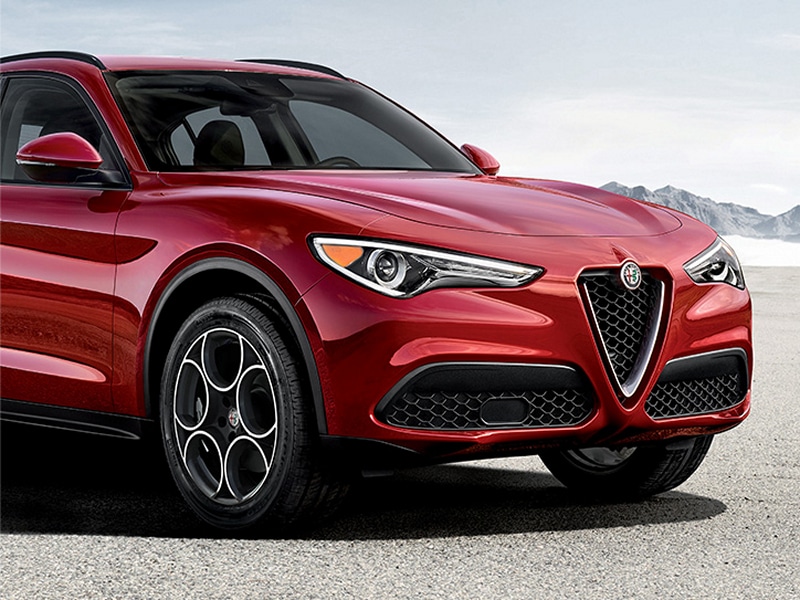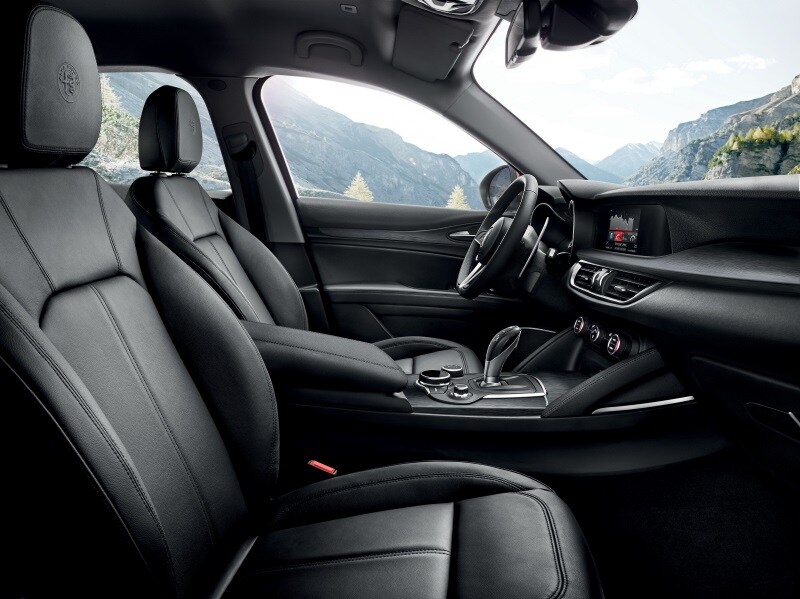 Functional Cargo Space and Versatility
While the Stelvio is just as attractive and thrilling as any Alfa Romeo model we've known, it won't flinch at rougher roads or heavy loads. There's room for your rear passengers to stretch out, and plenty of space for luggage in the back. The beauty of the Stelvio is that when you're not flitting it around twisty roads for fun, you can go pick up furniture with it. Take the dog to the park. Bring your friends to the golf course or shopping center.
Find Your New Stelvio at Jim Ellis Alfa Romeo in Atlanta
The Alfa Romeo Stelvio is simultaneously multifunctional and gorgeously exciting; the one does not preclude the other. We would love to have you visit our showroom and test drive the Stelvio so we can show you what we mean. Please feel welcome to call or stop by if you have questions about this uniquely luxurious SUV.