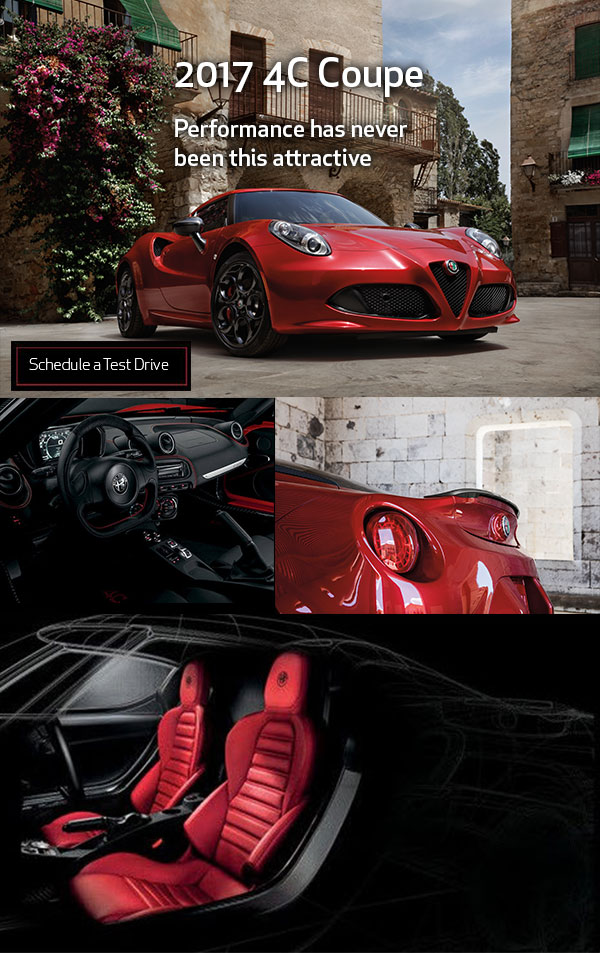 A Culture of Style
The 4C Coupe continues an Alfa Romeo tradition of performance-oriented lines and proportions. Inspired by the 1967 33 Stradale, considered by many as one of the most beautiful cars ever made, the 4C Coupe is just as shapely, and offers the classic Alfa Romeo V-shaped "plunging neckline" front grille. Front and rear overhangs are dramatically short, and dimensions are aerodynamically and dynamically optimized.
Driver-Centric Design
While the Alfa Romeo 4C Coupe exterior strongly hints at the gripping performance experience that lies ahead, getting behind the wheel will confirm even the highest of expectations. This is an interior that takes into account every aspect of driver needs, putting innovative, vital controls within easy reach. This is the kind of sports car that works with you to produce the most thrilling ride possible.

Race Inspired Performance
At the heart of a 4C Coupe is a 237hp, 259 lb-ft tourque turbocharged inline 4, with a top speed of 160 mph and a weight-to-power ratio of 10.4 lbs/hp. A figure that not only promises genuine supercar agility and performance- it delivers.